Conference Diary – Day One at Labour
Labour's anti-politics anxieties
by John Ringer
In Manchester Central today, the talk of the town remains the Scottish independence referendum. English activists greet their Scottish friends by saying 'thank god we're in the same country!'. Once-demure Brownites are acting mighty smug. Activists from across the country boast about their time spent knocking doors in godforsaken suburbs whose names they can't remember.
At times, it seems that each and every speech made from the dais – by the most polished frontbencher and the most inexperienced activist alike – in some way refers to Thursday's referendum. Even in today's sessions on defence and foreign policy, each and every speaker seemed determined to shoehorn in a reference to the campaign that just ended – often at the expense of talking of the one yet to come.
This might be quite surprising, were it not for the fact that the same trend that threatened the Union threatens Labour as well.
The sudden and (for some reason) surprising rise of anti-politics – made manifest in UKIP, Scottish nationalism, and ever lower voter turnout (though not in this referendum) – is deeply worrying to most Labour activists. The white, working-class voters who respond so readily to these movements are exactly the people Labour needs to win over in 2015 – not just for mathematical reasons, but also because Labour members deeply feel that those are "their people" who are being led astray.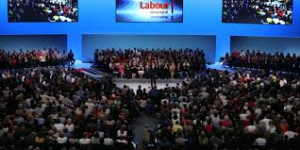 In Brighton last year, it was quite fashionable to express glee about the rise of UKIP – the right eating its own tail, as it seemed at the time. In Manchester, one year on, no one dares be so flippant. There are still many areas where the Tories' loss is Labour's gain. This year, however, candidates – particularly those in white, working-class Tory-held marginals – are coming up from their constituencies and telling anyone who will listen, "be afraid."
Few take any comfort in the fact that Labour activists are remaining loyal, while Tory campaigners are swarming over to UKIP in ever greater numbers.
Likewise, those who fought in Scotland seem to take little reassurance from their recent victory, not least because they actually lost in Glasgow – the jewel in Scottish Labour's crown. What the referendum ultimately means for Scottish Labour's chances in May 2015 is still very uncertain. An SNP surge is certainly possible – a chilling prospect for a party that cannot afford to be on the defensive in 2015.
Discussion of the referendum – and of the general anti-politics mood – is very likely to continue tomorrow, when Ed Miliband takes the stage for his keynote address. In his speeches to the various fringe events yesterday, the Labour leader made clear that constitutional reform is only a small part of the massive change he feels Britain will need to make if it is to stick together for another three hundred years.
He has clearly seen the polls which show that constitutional reform – for all it has been talked up in recent days – is not anywhere near the top of the average voter's priority list. Instead, he will speak about what he sees as the widespread disaffection felt across the entire UK, made manifest in the Scottish vote. But can Labour harness this disaffection in order to beat the Tories, or is it too much part of the "establishment" to do so credibly?
After all that has happened in the twelve months since they met in Brighton – the UKIP surge, the crises in Iraq in Ukraine, the near break-up of the entire country – the Labour Party seems still to be obsessing over the same question it's been asking itself since 2010: "can we win with him in charge?"
Roped into saying a few impromptu words at the New Statesman's stylish reception last night, Ed Miliband remarked that politics was about 'ideas' and 'movements', not just 'all about leaders'. A few eyebrows certainly perked up at this. Wishful thinking, perhaps, from a man who is far less popular than the movement he leads.
Every frontbencher's stump speech seems to refer to the inevitability of Labour's victory in 2015: "We will win, because…" Again: perhaps wishful thinking. The activists who are actually fighting the campaign do not seem nearly as certain.
Then again – with the very existence of the UK in question until a few days ago, the constitution up for grabs, and the existing political order under siege – nothing is certain these days.
—
Excerpts from the newspapers' conference diaries for Day One:
FT's Matthew Engel : "The scenery this year is, as of old, pink, shading towards red. Britain's Fuschia, maybe. But on the TV screen it looked deep purple, as favoured by Roman emperors and Tony Blair. One sensed an extremely subtle piece of manipulation: Labour trying to look redder and more radical to the comrades in the hall but moderate middle-roaders to the folks back home. Complete nonsense, a colleague explained. It's a technical point: calibrating the colour balance. Otherwise the leaders would appear on TV with yellow faces. Labour? Yellow? Oh, perish the thought."
The Times' Ann Treneman (£): "Len McCluskey, the general secretary of Unite, strolled up on stage … "Sisters and brothers," he bellowed and I swear everyone around me sat up a little straighter… I looked over at Ed Balls and felt just a bit sorry for him. In his hands he held a sheaf of papers that contained his speech, carefully worded, painfully created over weeks if not months, a jigsaw puzzle of give and take, spending and cuts."
The Telegraph's Michael Deacon: "Because look. That's what my Labour government will be about. Ensuring X. Delivering Y. Reaching out to Z. Reforming this, that and possibly the other, depending on the economic situation we inherit. And that's what we're going to do. Because actually, you know, I'm listening. I'm listening to everything except the questions I'm being asked. Good to be with you!"
The Daily Mail's Andrew Pierce: "Brown grew massively in stature with his impassioned appeal on behalf of the Union. Miliband was a minnow in comparison. So when Ed thanked everyone but Gordon — from Scottish Labour leader Johann Lamont, Shadow Scottish Secretary Margaret Curran and Better Together chairman Alistair Darling to MPs Anas Sarwar, Jim Murphy and Douglas Alexander — it certainly did not go unnoticed."
The Independent's Andy McSmith: "The hottest-selling author in Manchester, by a wide margin, is Dennis Skinner. It took him a full two hours to sign copies of his memoirs, Sailing Close to the Wind, ghostwritten by the Daily Mirror's Kevin Maguire. Blackwells shifted all 200 copies, at £20 each, from the bookstall, and have had to send for more. Skinner, who is 82, is a former miner whose father was blacklisted in the 1930s: he embodies something the Labour Party still wishes it stood for."
The Guardian's Michael White: "Crossing swords with pompous thinktanker Philip Blond on the conference fringe, Miliband's pint-size chief adviser, Stewart Wood, called for another glass of wine. When it arrived he unexpectedly recognised the waiter as Tory press officer Richard Holden. So whose was the tape recorder lying on the table next to Wood, hoping to catch a gaffe? Holden's? Such tricks have been known."