Conference roundup special

Our one-minute party conference summary…
The dust has finally settled from another entertaining 2018 party political conference season, with plenty to mull over.
One unforgettable highlight this week saw an unconventional podium walk from the Prime Minister at the Conservative conference in Birmingham. Aside from that, the past three weeks has also seen Labour coming out strong in Liverpool and the LibDems reasserting themselves in Brighton.
There were no disasters, no mishaps, no significant rows, a potential bid to join the 2019 "Strictly" team, Diane Abbott beer mats, Vince Cable mugs and the occasional 'exotic spresm'.
There was offence when the Home Secretary compared the EU to the Soviet Union, but that was from Donald Tusk, European Council president, so was very much welcomed by many Conservative members. BREXIT was ever-present at all the conferences but not actually discussed in detail, apart from when Mrs May's utterly bizarre plans for a Brexit Festival were being roundly ridiculed.
Conservative Leader in Wanting, Boris Johnson, made another populist speech, with much about housebuilding and planning. He rounded on the top eight housebuilders and the practice of land banking, perpetuating this idea, regardless of the fact his own government's review into housebuilding found this was not an issue. More has to be done by the industry to address this as it is a perception that is widely held across councils, councillors and the media.
Conservatives and Labour agreed housing was the key issue after BREXIT. It is a "housing crisis" and "is the biggest domestic policy challenge of our generation", according to Theresa May.
Labour introduced a swathe of policies sure to appease those unable to get their foot on the housing ladder, setting out plans to double council tax on holiday properties in England, introduce a commission to make citizens more involved in planning decisions, build more affordable homes and protect renters rights.
Meanwhile, the Liberal Democrats turned up and were just excited to be there. Alright, that's not exactly fair: they also proposed setting up a British Housing Company to acquire land for housebuilding through compulsory acquisition, and set out some genuinely interesting proposals on Rent-to-Buy.
Caps were removed, upward development approved, targets of 300,000 new homes confirmed and a new homes ombudsman announced, all polished off with the 'Maybot' and an increasingly copied Pinocchio dance sweeping the nation.
For a more detailed conference summary of the key announcements and developments please keep reading.
Conservative conference summary – roundup special
By Kasia Banas, Consultant
It's been another memorable Conservative Party Conference with the PM's closing speech and erratic dancing grabbing the covers of most major newspapers this week. Mrs May impressed not only with her moves but also by showing a rare glimpse of humour and self-deprecation.
In what some are calling one of her best speeches as PM, May focused on calling for party unity and launched a measured and stinging attack on Jeremy Corbyn's Labour party. The rest of her speech saw her declare an end to austerity, announce a new cancer strategy, freeze fuel duty, and reject the option of a second Brexit referendum.
Finally, she told the audience "solving the housing crisis is the biggest domestic policy challenge of our generation" before dropping the biggest announcement of the week: lifting the councils' cap on borrowing money, and potentially unlocking an extra £1bn to build as many as 27,500 new social homes per year.
Councils have been calling for this for years. Removing the borrowing cap has been at the top of the Local Government's Association's wish list to Government for as long as it has existed, so the significance of its removal cannot be understated.
Predictably, the move has been warmly welcomed by voices from the sector. Shelter called it "a major reform that shows real intent to back the social house-building we desperately need". The Local Government Association's Gary Porter said: "Today's speech by the Prime Minister shows that the Government has heard our argument that councils must be part of the solution to our chronic housing shortage".
Labour was quick to point out that following eight years of funding cuts, the councils may lack the capacity to actually deliver the expected homes.
Housing has also been confirmed as a top priority by Secretary James Brokenshire who pledged to speed up the planning system and enable "generation rent to become generation own" and reach the target of building 300,000 new homes a year.
He made a series of announcements including appointment of a new homes ombudsman advocating for homebuyers and holding developers accountable for the quality of the new builds, and a ban on use of combustible materials on external walls of high-rise residential buildings.
Mr Brokenshire called for smarter use of the space and land available such as increasing housing density by extending upwards on existing properties. Other planning changes include promoting councils keen to make new garden communities a central part of their plans for housing and economic growth. Local authorities will also receive additional freedom to make the most of existing brownfield land and dispose of surplus land that could instead accommodate new homes.
The government is also providing a £165 million funding boost to create a Commonwealth Games Village in Perry Barr, Birmingham. Following the games, the site will be converted into up to 5,100 homes. The project will support wider regeneration of the Perry Barr area through major infrastructure projects such as road and public transport improvements including upgrading the railway station, to support both new and existing communities.
Earlier in the week, it was also announced that a new levy is being imposed on foreign buyers of properties in the UK and funds raised from the levy will aid the schemes in the government's rough sleeping strategy.
In an interview with The Sunday Telegraph ahead of the conference, James Brokenshire admitted that the government's flagship scheme is being misused to finance acquisition of leasehold properties, which can see householders saddled with large annual "ground rent" payments. He said that the government was "reflecting carefully" on the scheme and next steps will be announced soon.
The conference provided a great opportunity for Boris Johnson to promote his Brexit manifesto in front of hundreds of hopeful activists who queued for hours to see him on stage. Speaking at a packed fringe event and in a rare departure from talking about Brexit, Johnson shared his views on housing, which he identified as a "massive opportunity" for Tories. Convinced that the pride of home ownership is "what people want", he proposed several measures for giving millions more young people the chance to become owner-occupiers. These include supporting small private builders; taking on the big eight home builders, some of whom are abusing their dominant position; cracking down on landbankers; incentivising councils give planning permissions on brownfield sites; giving the councils the ability to retain stamp duty, council tax, business rates, and annual tax on enveloped dwellings to encourage growth.
While it seems that his leadership bid was eventually overshadowed by the 'Maybot' (and other announcements), his efforts should not be underestimated as it seems that he's slowly realising that he won't be able to challenge May on Brexit alone.
Labour conference summary – roundup special
By Daniel Fryd, Senior Consultant
Despite weeks of internal scrapping over rule-changes, anti-Semitism rows and haranguing from the right-wing press, Labour came together to actually deliver a coherent and articulate vision for their Britain at their conference last week.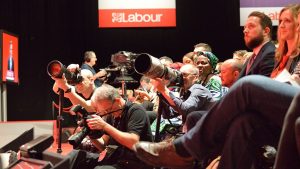 Brexit naturally captured the headlines, and the possibility of a people's vote has captured the imaginations of Remainers across the country. There were important announcements too on workers' rights, green jobs and a second homes levy to help alleviate homelessness.
Homelessness and housing has, of course, always been one of Labour's strong suits, so when the Shadow Housing Secretary said in his speech last Monday that a Labour government would be "the most radical government on housing for over half a century" we were poised for some significant announcements.
Labour did, largely, live up to expectations, and in between the largely inappropriate Palestinian flag waving and videos of Corbyn calling the bingo numbers at bizarre fringe events, there was some genuinely important policy announcements which will give the Government some pause for thought.
Hiking levies on holiday homes
In what feels like a natural Labour move, Healy announced a second homes levy which would see council tax for properties in England which used as holiday homes doubled, with an average tax bill of more than £3,200.
This is no small beer: with the number of multiple-home-owners soaring by 30% from 2002 to 2014 there are now 5.2 million in England, particularly concentrated in the holiday coastal regions around Cornwall and Norfolk.
The policy would raise something in the region of £560 million which would go towards addressing homelessness, we are told, although exactly how it is going to be spent is unclear. Labour sources suggest it would be used to help children in temporary accommodation.
The angry response from the Telegraph which, for some reason, thinks all of its readers have second homes, has just provided greater exposure for the policy. It is only certain portion of the baby-boomer population who bought their homes at the right time who can actually afford to have second homes, of course. While the vast majority of people struggle!
A revolutionary local plan system
Capturing most interest has been the newly formed Planning Commission, a headline announcement by Shadow Communities Secretary Andrew Gwynne, which is tasked with giving communities a more substantial voice on town planning. Much to the chagrin of planners and developers still coming to terms with the refreshed NPPF, the Commission will be tasked with proposing a revolutionary new system of local planning which will involve residents more closely. It will also look at land value capture and ways to boost the supply of land throughout the country.
With representatives from the National Housing Federation, the Local Government Association, the Royal Town Planning Institute and the Town and Country Planning Association, Gwynne believes the Commission's recommendations can turn the balance of planning policy away from being 'developer-led' and back to residents.
Renters unite
Labour had some good news for renters and those on low incomes as well, with a £20m pledge to set up a new renter's union. The money would be made available to bidding unions over a three-year period to help grow their services.
With a huge proportion of renters, especially in cities like London, the move could help ensure renters have the same backing and assistance that 30,000 private residential landlords through the National Landlords Association.
Leading to victory
There was only so much that Labour could announce at the Conference, given that they have announced a host of new policies on housing in their 'Homes for the Many' report released back in April. In there they pledged, among other things, to build a million "truly affordable" homes and to rip up the definition of what affordable homes are.
All of this resonates well with an electorate facing the worst housing crisis in recent history, and a Government with a seeming obsession with home ownership.
Agree with it or not, Labour is making a coherent argument on how to fix the housing crises by increasing levies on the rich, giving communities more power in planning decision, and increasing social house building.
And agree with them or not, Labour is looking more and more like a party that is getting ready to get into power.
Lib Dem conference – roundup special
By Vivienne Shirley, Senior Consultant
The Lib Dem conference this autumn may have garnered more media attention for 'exotic spresm' than any policies, but this does it a disservice. While the party was still (a whopping eight years later) having to spend time defending tuition fees, there was a cautious optimism in the air – and a sense that, in the turmoil that UK politics has become, opportunities might loom for the centre ground.
There was also a confidence that, though embattled, they are once again on the right side of history – this time on Brexit. For unlike the confused division of the two main parties, this was a group almost unanimously united for Remain and doggedly pushing for a People's Vote – if there was a lone Brexiteer amidst the gaggle of starred berets, they were certainly laying low. Often painted by the left wing as 'enablers' of the Tories, Nick Clegg drew loud applause when he called out Jeremy Corbyn's disingenuous, limp-wristed approach to Brexit – who's the enabler of the Tories now?
But this was a conference also determined to show that the party is not a 'one policy' brigade, with no shortage of sensible policies on show. Regarding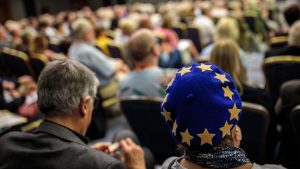 planning, the party reaffirmed its commitment to build 300,00 homes a year over the next decade and pledged it would create a British Housing Company – a dedicated, not-for-profit body that would acquire land for housebuilding through compulsory acquisition. Though the importance of green spaces was stressed, poor quality or disused green belt land would be considered fair game.
Social housing was also high on the agenda, with a promise that councils would have the power to decide on the availability of Right-to-Buy locally and Right-to-Buy receipts would be reinvested in social housing. The party further pledged the construction of 50,000 social homes for rent per year, rising to 100,000 a year as soon as feasible. The Housing Spokesperson Wera Hobhouse told conference: "If we are to truly tackle the housing crisis, we must embark on a large programme to rebuild our social housing stock."
In addition, the Lib Dems would see a big expansion in 'Rent to Own', with Vince Cable noting: "We desperately need a programme of low cost homes for rent leading to purchase for first time buyers and key workers." At the same time, the party would seek to deter investors who leave properties lying empty with a 500% increase in council tax. They also called for a stamp duty surcharge on overseas residents purchasing such properties, a policy shortly afterwards announced by Theresa May.
However, the talk on most attendees' lips in the bustling bars and hallways was Vince Cable's radical proposals to turn the party into a 'mass movement' and open the leadership up to non-MPs. While most agreed that a lower-tier supporters' network could be useful, many expressed alarm at the thought of non-members getting a vote on the leadership *cough* Corbyn *cough*. Meanwhile, Gina Miller firmly ruled herself out as a future leader in a polished speech to a packed hall. However, there was a sense that something radical might be worth a try if the Lib Dems are ever to emulate the success of Macron and Trudeau.
Vince Cable may need to hurry to get his reforms through and secure his legacy, as the topic of which MP would be the best next leader was a sure-fire conversation starter at every drinks event. Though Liberals may look back wistfully on the days of Charles Kennedy, Paddy Ashdown or even Jeremy Thorpe (pre-canine murder), the options today are undeniably more limited for a party which needs charisma in a leader more than the two main ones do – as they are currently proving. Jo Swinson was widely viewed as the best bet and ambitious enough, though her speech on 'owning the failures' of coalition garnered a mixed response from other senior Lib Dems.
In a world in which a traditionally sensible country cheerfully catapults itself economic turmoil and the most powerful man in the world spends his days tweeting gems such as 'covfefe', the party might just be getting starting for these centre-ground underdogs. The mood at conference was hopeful, though even the most optimistic conference-goer agreed they need a more inspiring leader to head the charge.